Our Fire Ant Control Service
Getting rid of fire ants in Cape Coral, FL is no easy task. Fire ants are social insects that live in very large colonies that extend deep into the ground, so to fully eliminate them, it is important to hire a professional who knows how to reach them. Many fire ant colonies have more than one queen and worse yet, if you do not kill all of them, a newly established colony can be re-built to replace the one that was destroyed. Luckily, ENG Pest Control can help! Our team is trained to get rid of fire ants and prevent them from coming back.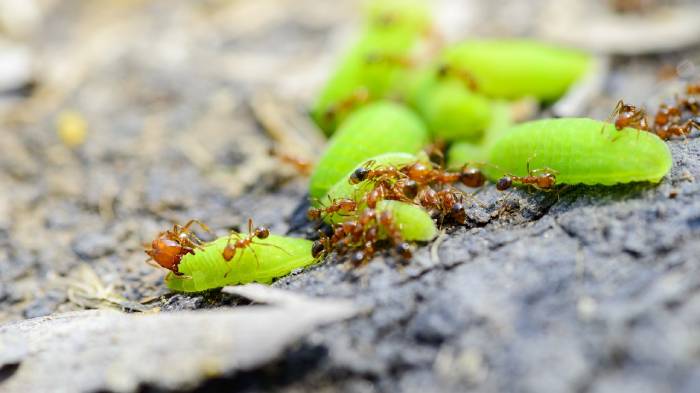 Our Unique Approach To Fire Ant Control Service
Ants enter your home through the smallest openings looking for water and food. Once they find a source, they will leave a pheromone trail for other ants to follow. Our team knows this and stops ants dead in their tracks. Learn more about our unique approach to ant control below:
We'll perform a thorough inspection in and around your home. Inside, we'll inspect all carpet edges, doors, windows, and your kitchen. Outside, we'll check your foundational walls, plus areas of vegetation and mulch.
2. INTERIOR ANT TREATMENT
We'll place professional ant baits in areas of activity and trails. Ants feed on this bait and take pieces back to the queen, killing the entire colony. This approach ensures the whole ant nest is eliminated.
3. EXTERIOR ANT TREATMENT
First, we'll caulk and seal cracks and crevices to prevent exterior ants from entering your home. Next, we'll carefully apply a non-repellent insecticide around the perimeter and entry-points of your home.
Why Choose ENG Pest Control
We're passionate about helping people just like you get rid of unwanted pest problems. As such, we are proud to be the only pest control company in
Cape Coral, FL
promising excellence in value, service, and trust.
Save on Home Pest Control Services
Get rid of unwanted pests in and around your home! Quarterly services starting at $80!
Fire Ant Control
Starting at…
Ant Inspection
Interior Ant Treatment
Exterior Ant Treatment
Satisfaction Guaranteed
★★★★★
"I highly recommend ENG for your pest control needs. Josiah takes care of my residence quarterly and is very professional and knowledgeable. Fair prices and prompt, friendly service. You can't beat it!"
- Courtney M.
★★★★★
"This business is very professional. I have not had bug or rodent issues since using ENG Pest Control almost two years ago. I am very please with his service. Definitely a 5-star company!"
- Rosemary B.
★★★★★
"Very knowledgeable and they will explain what is right for you. It has been almost a year of service and they have been great. Professional, on time, and work with you on scheduling. I would highly recommend them."
- Jay R.