WASP Control & NEST REMOVAL Cape Coral
Our Wasp Control & Nest Removal Service
Here in
Cape Coral, FL
, queen wasps build their nests in spring. By the end of fall, these colonies reach their maximum size, often housing up to 5000 wasps. So, if you're dealing with a stinging insect infestation at home, the experts at ENG Pest Control can help! We will safely remove hornets, yellow jackets, paper wasps, and other stinging insects without endangering your family or pets. We can also pre-treat your home to discourage these stinging pests from building nests in the first place!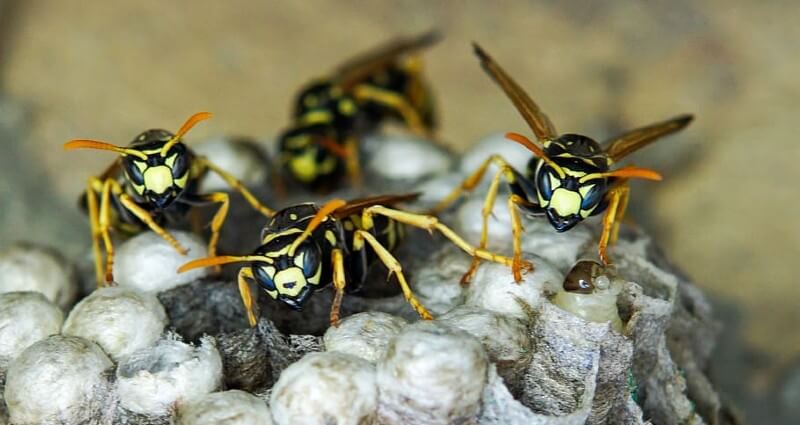 Our Unique Approach To Wasp Control & Nest Removal
Calling a professional to help you get rid of hornets, yellow jackets, or paper wasps is your best option, even if you're comfortable removing them on your own. These stinging insects make nests in tricky spots like the ground, your home's walls, and other hard-to-reach areas, plus getting rid of them depends on the time of the year.
We'll perform a thorough inspection of your property, checking for nests under eaves, in the ground, around bushes and trees, and more. Our goal is to locate all nests and identify the wasp species (hornet, yellow jacket, paper wasp, etc.) so we can get rid of these stinging insects for good.
We'll use an aerosol spray to treat the wasp nest(s). We spray at night because (1) the wasps are far less aggressive, and (2) are all at home. After a majority of the wasps are dead or have flown away, we'll remove the nest. This waiting period takes 24 hours on average.
We'll dust void areas with an insecticide to kill emerging wasps and discourage them from returning next season. This will continue to kill wasps for six months (or more) in areas where the dust is protected.
4. SPRAY FUTURE NESTING AREAS
We'll spray the wasp infestation (and surrounding area) with a residual liquid insecticide. This treatment not only controls wasps but also prevents these stinging insects from constructing nests in the future.
Why Choose ENG Pest Control
We're passionate about helping people just like you get rid of unwanted pest problems. As such, we are proud to be the only pest control company in
Cape Coral, FL
promising excellence in value, service, and trust.
Frequently Asked Questions
Yes! For roughly 24 hours, you will see foraging wasps return to their nest, which is no longer there. They may be irritated, so we recommend staying away from this area until there are no more stinging insects. To schedule your wasp nest removal, please call
239-470-4086
today!
Yes, but it's not something we recommend. It takes special skills to remove stinging insects safely. Hornets and yellow jackets are far more challenging (and dangerous) to remove than paper wasps. So if you decide to treat a nest on your own, please proceed with caution. Follow standard safety protocols like treating the nest at night and wearing a wasp suit sealed at the wrists, ankles, and collar.
We know how scary stumbling upon a wasp nest is. This is especially true if you or a loved one are allergic to wasp stings. So we do our best to remove wasp nests from homes in our service area within 24 hours. If you're dealing with hornets, yellow jackets, paper wasps, or any other stinging insects, please give us a call at
239-470-4086
today!
Save on Home Pest Control Services
Get rid of unwanted pests in and around your home! Quarterly services starting at $80!
Wasp Nest Removal
Starting at...
Wasp Nest Inspection
Wasp Nest Knockdown
Wasp Nest Treatment
★★★★★
"I highly recommend ENG for your pest control needs. Josiah takes care of my residence quarterly and is very professional and knowledgeable. Fair prices and prompt, friendly service. You can't beat it!"
- Courtney M.
★★★★★
"This business is very professional. I have not had bug or rodent issues since using ENG Pest Control almost two years ago. I am very please with his service. Definitely a 5-star company!"
- Rosemary B.
★★★★★
"Very knowledgeable and they will explain what is right for you. It has been almost a year of service and they have been great. Professional, on time, and work with you on scheduling. I would highly recommend them."
- Jay R.